Sophia Weber, FBLA State Executive Vice President, Emma Alt, FBLA State Editor, and Megan Mortensen, FBLA District III Vice President, are attending the State Board meeting at ESU today.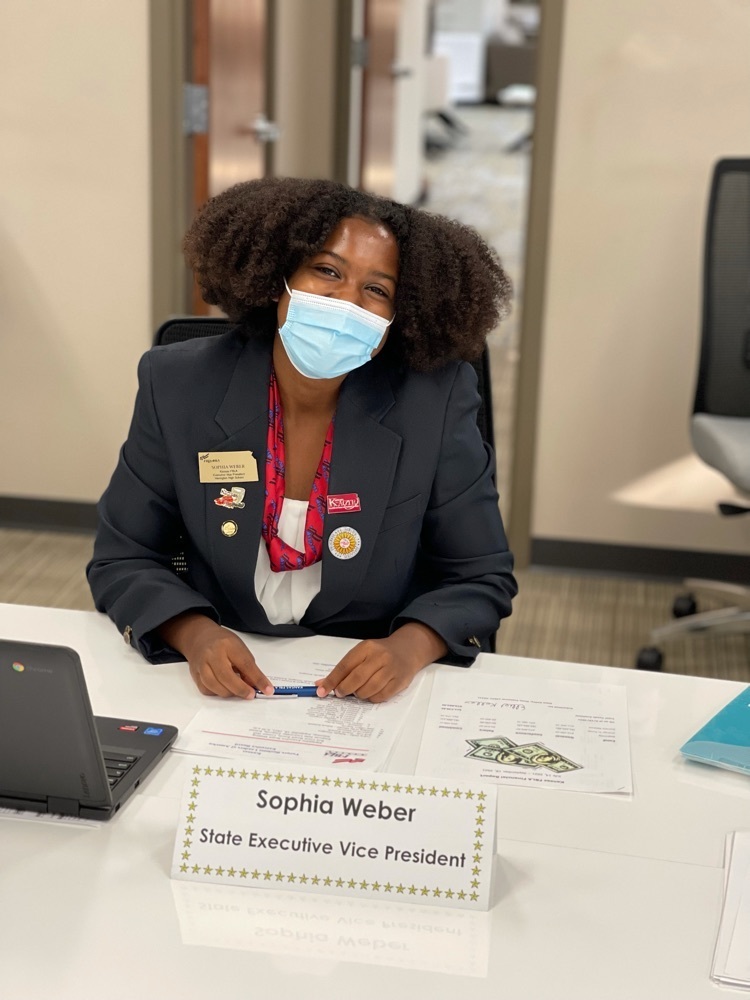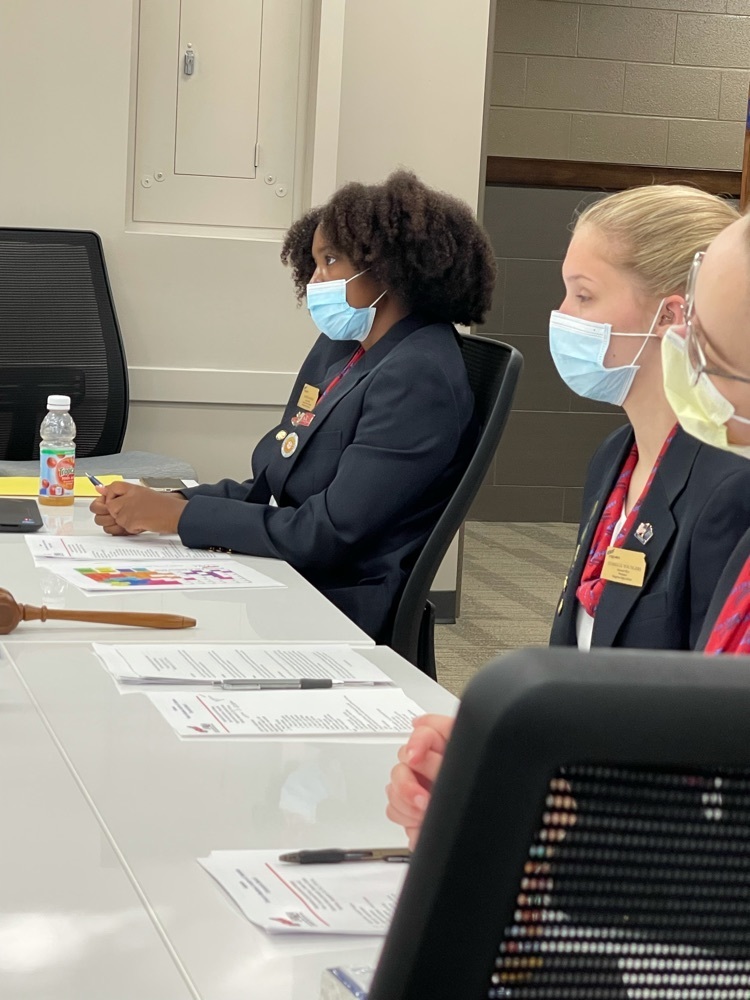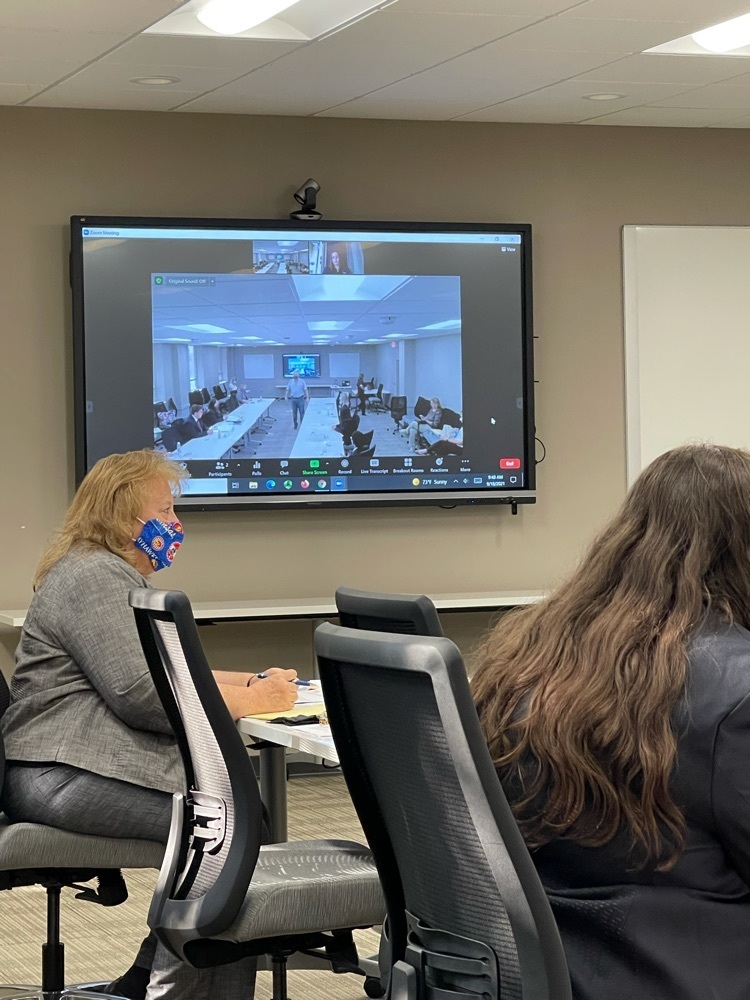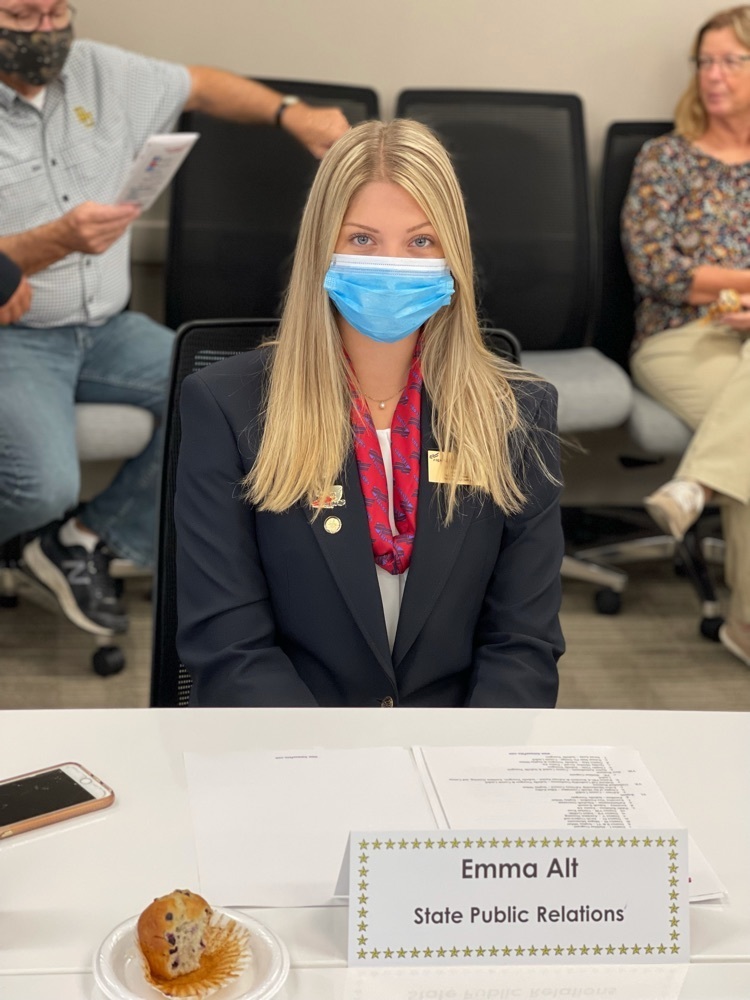 The August student of the month for Herington Elementary School is Raylynn Tracy. Raylynn is a fun-loving, kind student who is always watching to see what we will be doing next. It's clear that she is an excellent role model for her classmates as she follows classroom expectations and directions each day. She comes to class with a great attitude and is ready to learn! We are excited to see what the school year brings for Raylynn!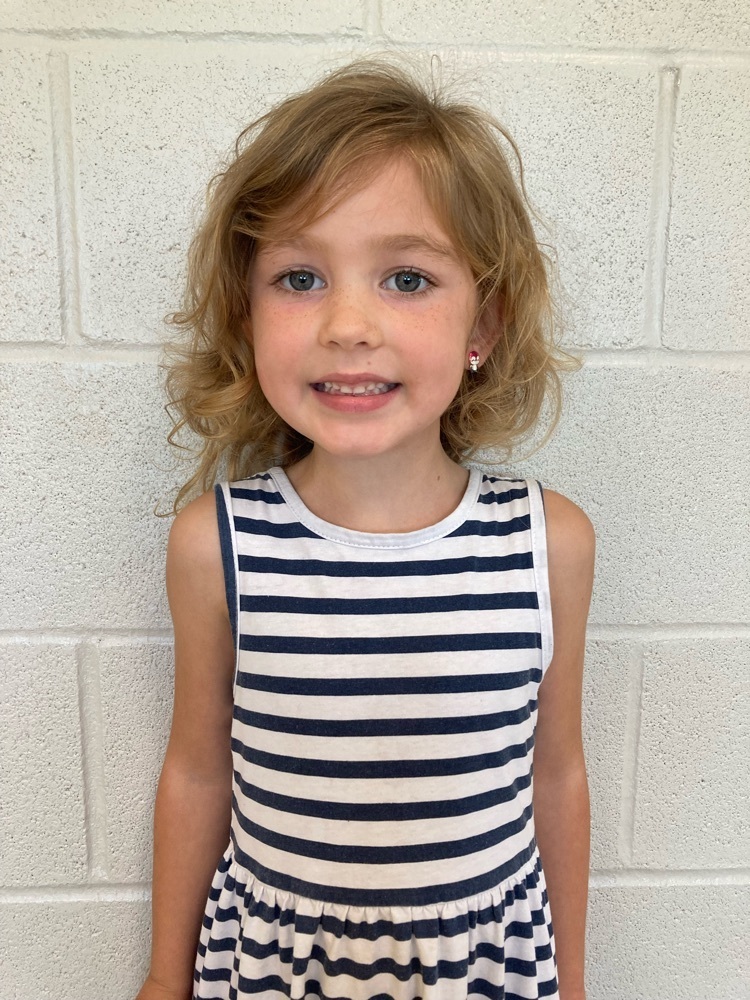 First graders in Ms. Fegan's reading MTSS group have been working hard this week! They have been practicing writing, independent reading, playing phonics games, and doing online adaptive practice for reading skills. #backontrack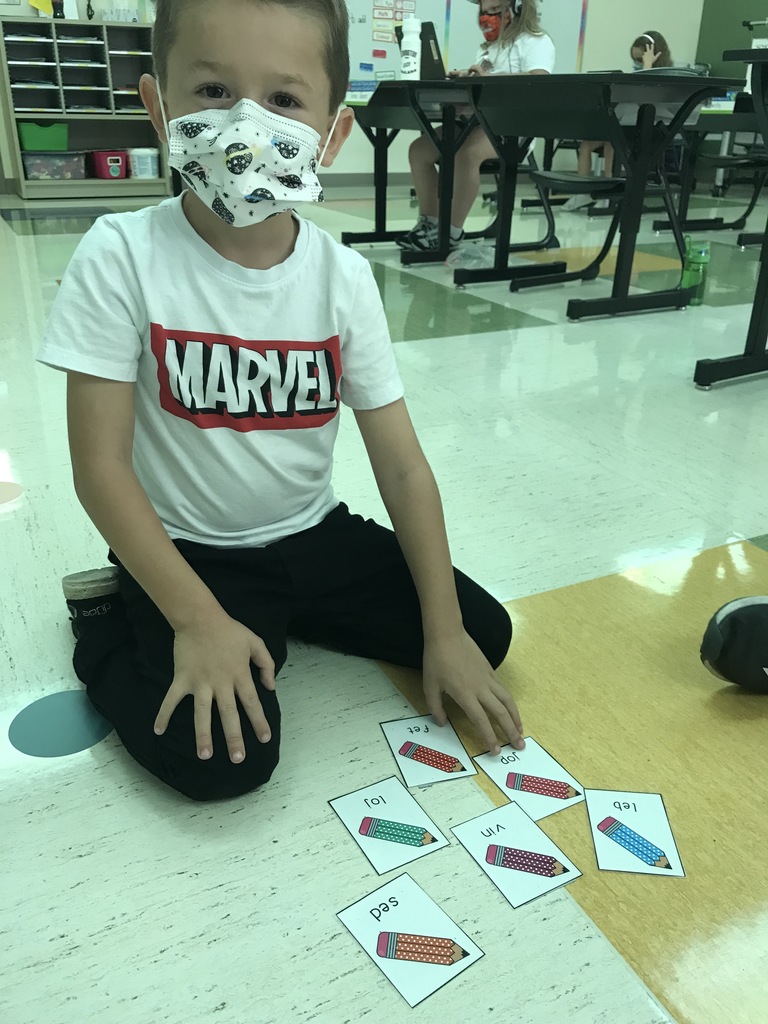 On Thursday, September 9, 2021 The Lady Railers took on a last minute night of competition hosted by the Council Grove Braves. Excited to see some new competition from teams that they wouldn't have typically played in their season, the Lady Rails stepped on the court to compete against Council Grove and Riley County. This was the first night of competition in which they were able to take all three squads. Riley County The first team that the JV and Varsity played was Riley County who is in Class 3A and ranked first in the Mid-East League. The JV squad came out timid against the Eagles and they struggled with having confidence during serve receive. The Lady Railers had also undergone personnel changes due to having people moved around. The Riley County Eagles capitalized on this and easily won the first set 7-25. After having a fire lit under them, the JV squad found their fight and did all of the little things right. They came back to win the second set 25-17. Due to this competition being outside of their league, the Lady Railers were able to play to a third set of fifteen. They were excited for this opportunity and played with a passion that the coaching staff hadn't seen yet. After a long and hard fought battle, they came up just short. They lost 16-18. The Varsity squad had a similar start to their first set, but they were able to make mid-game adjustments that brought them back into it during the first set. They ended up losing the first set in a close 23-25 dogfight. Their forces were not working together as they typically do and the Lady Railers were just one step behind the opposing Eagles. The second set seemed to almost be a repeat of the first as the Lady Railers were playing on their heels rather than their toes. They ended up losing another set that they gave everything to, 19-25. Statistics The Freshmen are beginning to get more and more comfortable on the Varsity Court and the numbers continue to prove that as Freshmen Leslyn Kremeier records the highest amount of legal serves against the Riley County Eagles. The Eagles proved to be a tough team at the net, but Senior Emma Alt was tougher as she led the team in blocks with two during that match. Halle Rutschman led the team in digs with 16 against Riley County and only one defensive error. Senior Tristyn Kremeier and Sophomore Tyler Urbanek each offered up two assists for their teammates as setters. Council Grove. The Junior Varsity team was still riding the high of their intense competition with the Riley County eagles and they hoped to carry that energy over into their next match against the Council Grove Braves. The JV squad had a repeat first set of their last match, losing 12-25. After going on an impressive run late in the middle of the second set, it was too late and they lost 17-25. The varsity team once again put on a show stopper and had the home team just a step behind in the first set. In what was a battle for the set, the Lady Railers took the first set 25-22. Once the Braves found their stride, the Lady Railers were taken aback and the adjustments that they needed to make just didn't come in time. The Council Grove Braves earned the win for that set, 23-25. That brings us to the third set where the Lady Railers were able to find their groove once again. With a student section that traveled to support them and with the belief from their coach, the Lady Railers brought all of their strengths together to impressively beat the Lady Braves, 25-17. Statistics Sophomore Tyler Urbanek spent most of her night behind the serving line as she had 14 serves with no serving errors. From in front of the ten foot line, Senior Halle Rutschman led the team in attacking on the night with 14 kills total. Senior Emma Alt proved to be a dominant force at the net once again as she had seven blocks. The team as a whole put up an impressive 106 digs in their match against Council Grove. Five of the players on the roster have ten or more digs individually. Senior Tristyn Kremeier had six assists in this match and she is consistently setting her team up for success. Senior Madi Becker, defensive specialist, had 23 successful serve receives and 27 digs. Sophia Weber, Sophomore
Fourth graders in Mrs. Barnes's class work hard on their math fluency using XtraMath. #backontrack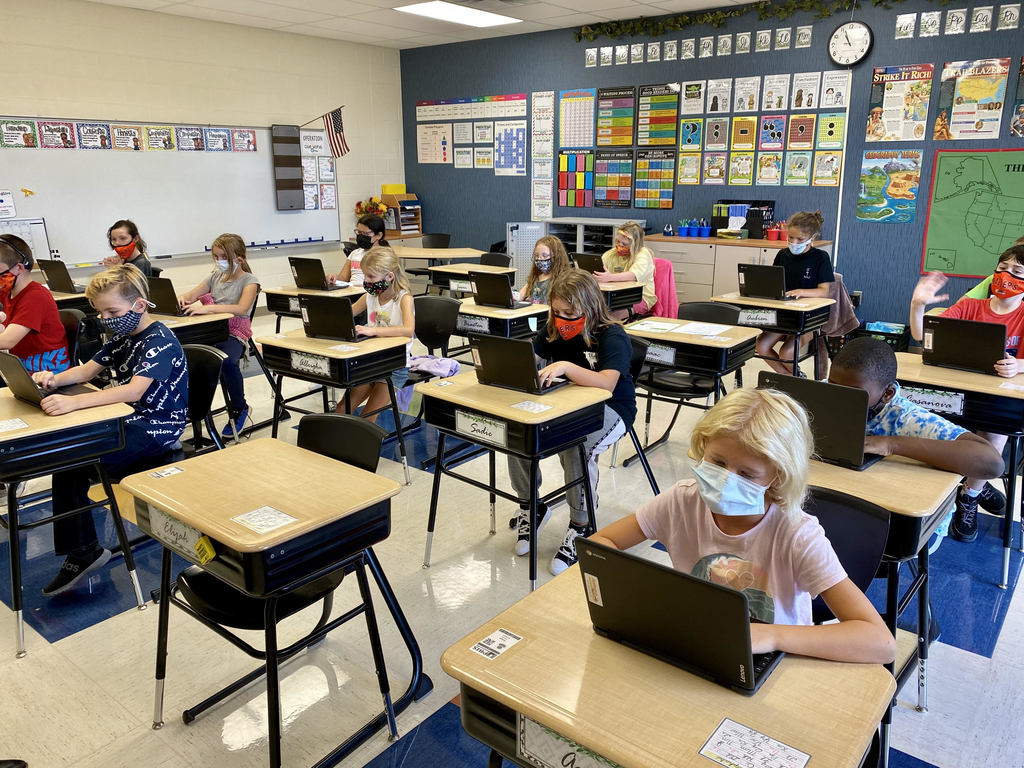 The Railer High School Football game scheduled for Friday has been canceled. Thank you for your understanding!

The Herington High School Cross Country Varsity and JV squads traveled to Lyndon on Thursday, September, 9. After getting their first meet of the season out of the way, each of the runners had a goal that they were working towards as far as their times go. This is the first year that half of these runners have competed at the high school level and they are becoming more and more confident in their abilities. Sophomore Korey Meier explained how he feels that he is getting smarter when it comes to his running strategy by saying, "My running strategy is to stay loose, breathe properly, and I work hard at trying not to tense up." On the girls side, Davanne Schaffer competed as a varsity runner in the 5k. She ran a time of 25:26 and placed 13th. She cut off two minutes from her last run at Mission Valley. Jaiden Vogt competed as a junior varsity runner in the 5k. She placed eighth, running a time of 31:17 and is staying consistent. On the boys side, Koy Mueller competed as a varsity runner in the 5k. He placed 21th in his division and ran a time of 19:56. Korey Meier and Sumner Schlesener competed as junior varsity runners in the 5k. Korey placed 10th against a large group of junior varsity boys and ran a time of 25:35, cutting off just over a minute. Sumner Schlesener placed 15th while running a cross country course for the first time and ran a time of 28:39. Sophia Weber - Sophomore
The Railer High School Volleyball game scheduled for tonight at Solomon has be postponed. We will look to make up the games at a later date. Thank you for understanding!
The Herington JV Football game scheduled for tonight has been cancelled.

The middle school staff members chose 8th grader, Hannah Pritchard, as the August Student of the Month. Hannah participates in Band, Volleyball, Track, Summer Weights, and Quiz Bowl. Hannah feels that she was chosen as the middle school student of the month because she works well with others, communicates with her teachers, turns in her assignments, and follows the Railway Expectations. Hannah is the daughter of Erin and JB Pritchard.

Week Events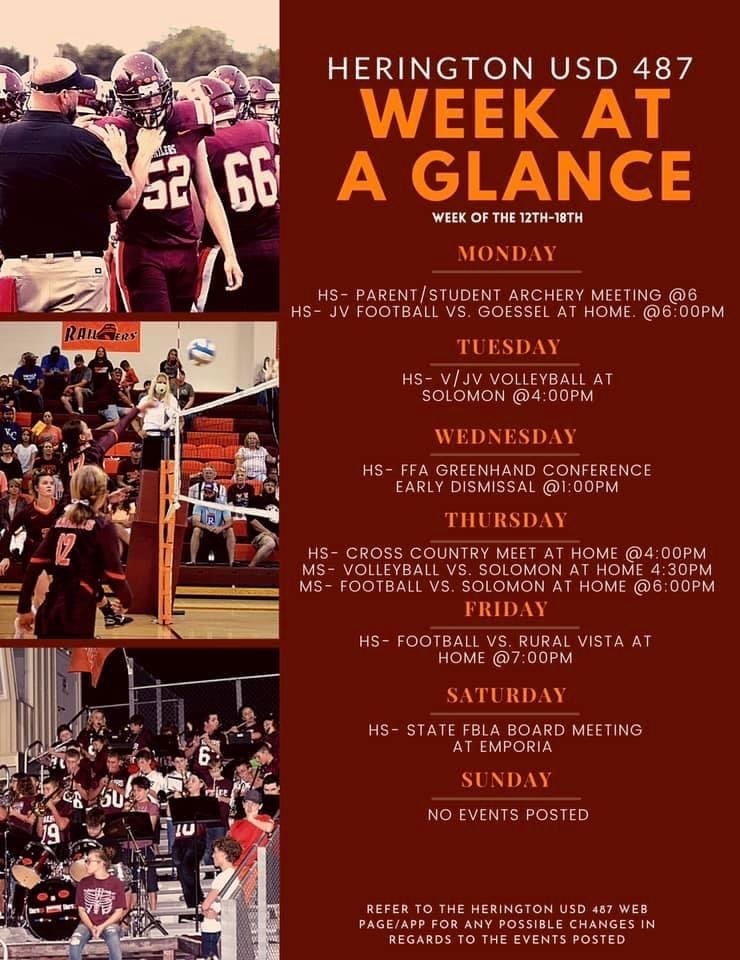 On Tuesday, Sep 7, 2021 The Lady Railers began league play as they traveled to Elyria Christian. As defending league champions, the Lady Railers knew that they had something to prove tonight as they played two of the scrappiest teams in the Wheat State League. When asked about her feelings on the night as a whole, Senior Halle Rutschman said, "The night was suspenseful and filled with lots of actions and stress, but thankfully I was blessed with accountable teammates and we were able to pull through with two wins". Elyria Christian The first team that the JV and Varsity played was Elyria Christian based out of McPhearson, who had a home court advantage and utilized it. The first squad to take on the Lady Eagles was the Junior Varsity. Abiding by Wheat State League regulations for JV volleyball play, they play two sets regardless of a potential tie. They won the first set 25-10 and lost the second set 23-25. After a smashing win, the team became too comfortable and had to dig themselves out of a hole. Unfortunately, their fight came too late for the lead that the eagles had put up in the second set. On the other hand, the varsity team was able to close out their match against the Lady Eagles in two sets with a steady intensity: 25-19 and 25-14. Senior Halle Rutschman led the team in kills during this match with six. From behind the line, sophomore Tyler Urbanek led the team with a 92.3% serving percentage. Senior middle hitters, Emma Alt and Megan Mortenson, led the team with blocks in this match with one a piece. The team played an excellent game defensively as three different players were in double digits for both digging and successfully receiving served balls. Awaiting their final opponent of the night, the varsity team took a break as they watched the JV team take on the Lady Bluebirds. Goessel The Junior Varsity team focused on starting off fresh with their second match of the night after losing their last set in a tough battle. It was known going into this match that the Goessel Bluebirds were both well coached and aggressive. The JV squad understood what was being asked of them and delivered. After playing an impressive game on the defensive side and a solid game on the offensive side, they lost 20-25 and 13-25. The varsity team had to create their own energy as they competed on an away court. The varsity team adjusted beautifully to the adversity of missing players due to COVID-19 protocols and were able to work together. In a thrilling match that kept everyone on the edge of their seats, the Lady Railers prevailed and defeated the Lady Bluebirds 23-25, 25-13, and 25-23. Tuesday night Halle Rutschman proved to be a reliable and lethal resource for the lady rails at the net where she led the team total all night with 11 kills, five of those coming from their match against Goessel. Senior Madilynn Becker had 20 digs and 11 balls that were successfully received against the Bluebirds. The team took many lessons away from the night and enhanced their overall chemistry with each other. They are grateful for the competition that they experience and are working hard to prepare for the competition that they will face on Thursday at Council Grove. They are set to play Council Grove and Riley County. Sophia Weber - Sophomore

The Herington High School Cross Country Varsity and JV squads traveled to Mission Valley on Thursday, September 2. They are under the leadership of coach Troy Biehler, who is entering his second year as the cross country coach at Herington High School. This year they have a larger team than they had the previous year and are able to compete at competitions in both JV and Varsity divisions on both the men and women's sides. The team is small in numbers and young with one freshman, Jaiden Vogt, who is a long distance runner in track and is excited to pursue cross country this year. There are two sophomores, Korey Meier and Sumner Schlesener, who are both first year members of the high school cross country team as well. The two veteran juniors of the team are Davanne Schaffer and Koy Mueller who are both entering their third year on the team. On the girls side, Davanne Schaffer competed as a varsity runner in the three mile run. She ran a time of 27:08.24 and placed 12th. She shared that her strategy for the race was to have fun and set a good time for the first meet of the year. Jaiden Vogt competed as a junior varsity runner in the three mile run. She placed second and earned a medal in her cross country debut, running a time of 30:43.39. On the boys side, Koy Mueller competed as a varsity runner in the three mile run. He placed 11th in his division and ran a time of 19:53. Korey Meier and Sumner Schlesener competed as junior varsity runners in the three mile run. Korey placed 10th against a large group of junior varsity boys and ran a time of 26:50. Sumner Schlesener placed 15th while running a cross country course for the first time and ran a time of 28:11. Sophia Weber - Sophomore

HS Volleyball travels to Council Grove today. Varsity, JV and C team girls will be playing at 6:00 against Riley County and 7:00 against Council Grove. Good Luck Lady Railers!

Good Luck to the Cross Country Runners today at Lyndon. Varsity Girls run at 5:00, Varsity Boys at 5:30 and JV Girls and Boys at 6:00.

On Friday September 3, the Railer Football team played their first full game. Railer fans had other opportunities to see them in pre-season fashion during the annual inter squad scrimmage and a jamboree that featured. The details of this game were full of questions as far as finding officials and more importantly an opponent. Due to the Centre Cougars dropping from 8-man football to 6-man football, the Railers had to find a different opponent for their first game. Due to their official forfeit against the Railers, Herington has advanced their record to 1-0. After getting word that Madison-Virgil was without an opponent for week one, they used their practice time to take on the bulldogs. They started off the first half with explosive offensive plays but faced several setbacks due to penalties. Their defense really stepped up and helped limit the bulldogs in the first half. COVID-19 protocols were definitely a factor in their game and forced them to alter their personnel. They went into halftime 0-16 and were still energized from the plays they were able to create in the first half. In the second half of the game, the Railers were not able to capitalize on scoring opportunities. Senior Ridley Swader had a rushing touchdown to put the Railers on the board. The Madison Bulldogs used their strong offense and a lot of experience to stay in control of the game. The Railers learned many things about both the chemistry of their team and the progress that they have had from last season through this game. At the end of the day, the Railers lost 53-6. In his first year as the Varsity Quarterback, Sophomore Tyus Becker said, "They weren't forty-five points better than us, that will be one of the hardest games we will play and it really showed us how capable we are. Playing a good team just makes us better and I feel like we know how to play like a team now." The Railer Football team is preparing to take on the Goessel Bluebirds this Friday at 7:00. This game will begin league play for the Railers, both the coaching staff and the players are eager to explore their potential this year. Their next home game will be on September 17 with a kickoff at 7:00 P.M. -Sophia Weber - Sophomore
USD 487's new masking policy mandates all visitors and spectators attending events located inside the school will need to wear a mask and practice social distancing. Thank you for your cooperation!
HMS Railers will be in action Thursday as we host Peabody-Burns! Game Times: Volleyball 4:30pm A-Team Volleyball 5:30pm B-Team Volleyball 6:30pm C-Team Football 6:00pm 6-man game

Sophomore Sophia Weber will be writing sports news for USD 487. Her first story features the HHS Lady Railers. Coming out hot, the Lady Railers kicked off their 2021 Volleyball Season in style. With new uniforms and a student section dressed in old ones, there was no place better to be compared to the Herington High School Gym. When asked about her feelings on the night as a whole, Coach Lisa Beye said, "I was very pleased how we came back and ended up competing against a state calibar team, even though we came up short we are now able to learn from the outcome and move on." Central Christian The first team they played was Central Christian based out of Wichita, their team was young and scrappy. The Lady Railers took care of this team in two sets. The first set was 25-11 and the second set was 25-7. Throughout this set they had to practice discipline and figure out how to set the pace of the game. Speaking of coming out hot, Sophomore, Ashley Mascareno, led the team in kills and kill percentage during their match against Central Christian with five kills and a 71.4 hitting percentage. Seniors, Halle Rutchman & Madi Becker proved to be a dynamic duo and also served up an ace each. Halle continued to put on a show defensively as she had 25 digs and successfully received served balls seven times. Senior, Emma Alt, was step for step with the hitters on the opposing team and earned three points for the Lady Railers in blocks. Putting up impressive numbers and refining their chemistry together was essential for the challenge they had up ahead. They were about to take on Lebo, who is ranked fourth in Class 2A across the state of Kansas. Lebo Lebo had strong hitters and quick feet, the matchup against the Lady Railers would be one to watch. The energy in the room was full of adrenaline and anticipation, no one truly knew what the outcome would be. The Lady Railers approached the first set with hesitation and seemed taken aback by the challenge. Going into the second set, they played with a purpose and an intensity that was not matched by the Lebo Wolves. In the third set, they fought for a lead and fought even harder to keep it. The Lady Railers lost, 14-25, 25-21, 22-25. This go around, Emma Alt led the team in kills with four and many reliable hits to continue rallies. She was also able to make other rally-ending plays at the net with her blocks, leading the team with seven blocks. Freshman Leslyn Kremeier had an impressive debut on the Varsity High School Volleyball court with ten digs and seven successful serves received. Coming up short in the end was not easy, but it was a learning experience for the Lady Railers. They are preparing now for their next game on Tuesday against the Elyria Christian Eagles and the Goessel Bluebirds at Elyria Christian near McPherson.